DMK-01 Optimus Prime
Transformers Dark Of The Moon
360° View
Close-ups
Articulation
Action Poses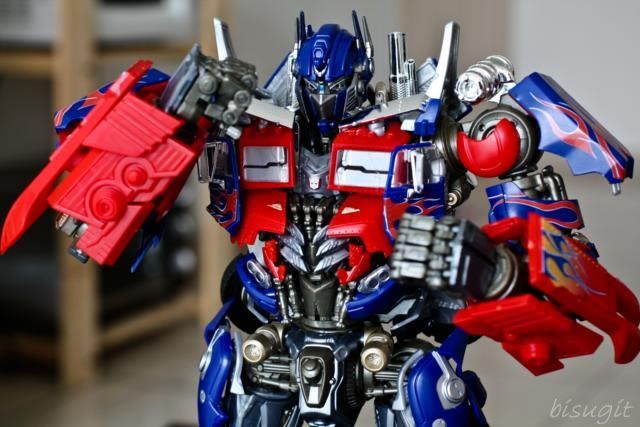 Conclusion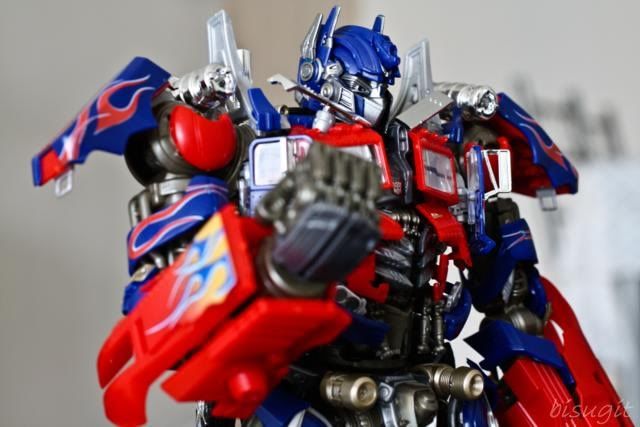 Awesome - extremely impressive or daunting; inspiring great admiration.
That is what this model kit is. You might be put off by the cost as it is around the same price of MG Ex-s (or the fact that it is a non-transforming transformers toy) but it's totally worth it. I admit that I was reluctant to get this kit at first since the 150sgd tag price have gotten me a PG Zaku so when I saw this being sold for 50sgd, I immediately grabbed it coz I know I wouldn't get the same offer anywhere I go (DMK bumblebee is selling for 60sgd).
Building this kit is not easy as there are a lot of small parts and the pegs are tight so it's difficult to piece together. Some pieces literally fly off the kit upon snapping some other parts. I even broke a piece or two. Luckily, the frame is already built otherwise I would have spent additional frustrating hours just to finish it. One of the most dissapointing part is building the hand, the fingers easily fall off so it's recommended to display it with a closed fist. But after you understand how the pieces fit together, it's easier to decide which parts can be glued together to lessen the falling parts.
The articulation is fairly limited but as you can see in the photos, it can still do some dynamic poses. I wish it came with a buster rifle but the 2 blades are still good addition to this kit, both of which can be attacched to the forearms or totally replace the hands. It comes with a no mask face but i'm not a fan of the 'unmasked prime' so i didn't bother to put it in. Decals for the flames are also included for those who want to paint prime.
The most amazing thing about this kit is the amount of details. It is simply the most acccurate movie version of prime I've seen to date (not the transforming part of course). The paint, the chrome parts, transparent parts of the sword, the rubber wheels and the color of the plastic are the things that you will really appreciate in this kit. Scale-wise, this 1/35 prime is as big as the MG Sazabi.
This kit is more of a display piece than a toy. If you want a playable movie version of prime then you can always get the revoltech version or get a leader class. But for those who love model kits and toy photography, this is the perfect Optimus Prime for you. For all die hard optimus prime fans out there, I recommend adding this one to your collection, It may not be able to transform but it sure is one hell of a display piece ^_^